MKR Mobilbar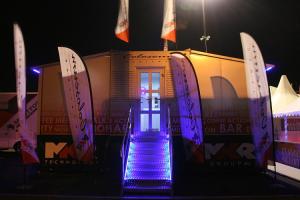 We are the only company in the Czech Republic to have developed, constructed and operated the unique multi-functional MKR Mobilbar. At first sight it is an ordinary trailer. After simply pushing a button it automatically unfolds itself, increases its floor area three times and converts into a faultless "pub" that takes in up to a hundred people. All you need is a water service pipe and electricity connection and your event is ready to start. Within an hour you can have a magnificent representative venue that includes anything that you can think of – a bar, beer tap, dishwasher, fridge, sound system, TVs, lighting, heating and air-conditioning – all on a professional level.
Do you want to enjoy a great event or party only for you and your business partners? Would you like to establish a perfect venue for en exhibition or catering during various events?
Maybe you need a hospitality tent for athletes, musicians, actors or VIP guests?
Are you searching for a non-traditional teambuilding for your employees?
Do you wish to celebrate your birthday, anniversary or wedding and offer your guests a proper disco venue with a first-class sound system and colour light effects?
Or do you have another idea on how to enjoy our MKR Mobilbar?
Just give us a call, book our services and your dreams can come true!
MKR Mobilbar – technical parameters
Equipment: A/C, heating, laser, disco lights, party fog, sound system, wireless microphone, 4x LCD TV, beer tap, professional dish washer, fridge.
Lease/prices/questions
Kindly address your request, conceptions as well as the number of days to our email and we will provide you with the quotation reflecting your needs.
Contact: Lucie Povová - tel.: +420 776 634 390, lucie.povova@mkr-technology.com.